Introducing the most luxurious and fun hairbands ever!
Pair this beautiful hairband with basics or evening attire and transform into a magical and playful look. Channel your inner feline and prepare to turn heads wherever you go!
Jas (pronounced "Yaz") is our newest and most fun headwear ever. With all the elegance and beauty that Object & Dawn has become known for. The moment you touch it, you'll say "wow." Easy on, easy off, travels anywhere you go and screams personality.
Choose from Pearl, Gold, Silver, and Black.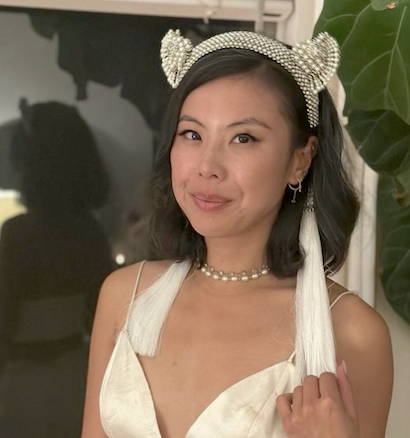 "It's so elegant, yet playful. I love it. I want more of this!" Juliet - Los Angeles
"This is the cutest thing ever." Nancy - New York City
"I've been a client of Object & Dawn for a few years with several pieces in my closet and there really isn't anything like it on this planet." Candice - Miami
After years as fashion designer in New York for large companies, Saida realized she had a problem. Her accessories and jewelry couldn't keep up! She might be in her office, a happy hour, an evening event, dinner and ultimately a dance floor. But there was no time to go home and change outfits. Why weren't there high quality, jewelry and accessories that could change with your environment? The idea for Object & Dawn was born. Core to our design is that you can change and customize your pieces to fit your mood or setting. Forever.
Tassels, medallions, chains, etc. can be swapped with other items from our catalog of Add-ons, or from your own collection! Refresh your O&D investment endlessly. And you can feel good that you're not buying "fast fashion" that ends up in a landfill after a few uses. We design and produce everything to exceptionally high standards to provide you with years and years of joy.
Join us and feel the The Object & Dawn Experience!